---
The Many Suns Inside Your Head

Installation with fabric, paper, cellular polyester, canvas screen, slide projectors, digital projector, photographic filters, lens, acrylic glass, mirrors, motors, crystal ball, polystyrene, photographic glass plate, LED spotlight, sound, chains, wood, cables
2021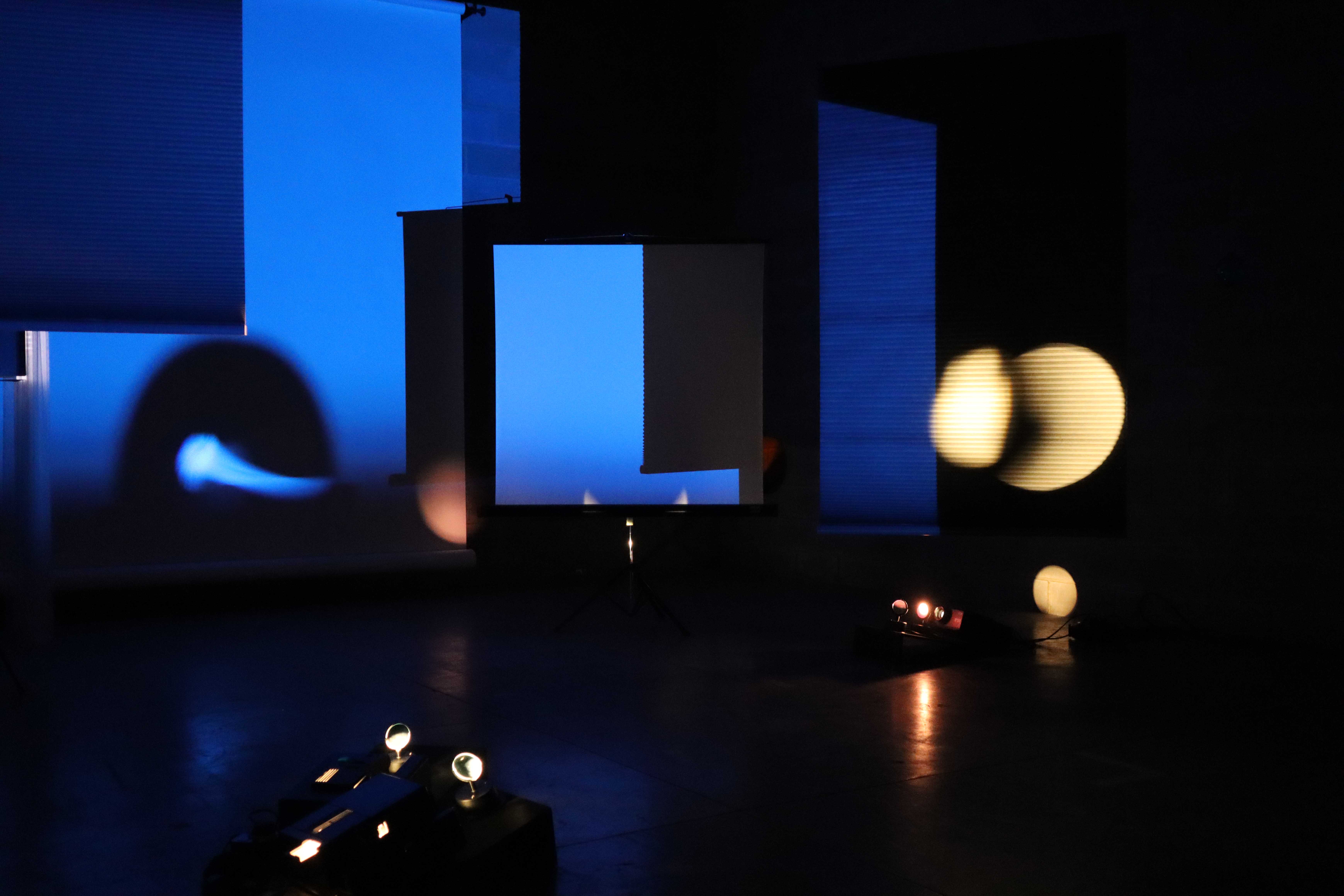 [Eng]
The Many Suns Inside Your Head
is an immersive installation composed of different surfaces (fabric, paper, cellular polyester, canvas screen), several sets of (slide and digital) projectors with photographic filters, lenses or mirrors on motors, some objects (a crystal ball, a photographic glass plate, an LED spotlight) and sound. The installation creates an entangled system, a kind of solar system where there would be more than one sun around which we would orbit. Set different times for a specific space. The experience opens up and we are immersed in a continuous movement of light paths that cross space. A sun sets here, while another rises there. A small eclipse of two other suns, while on the horizon a beam of blue light becomes visible in whimsical shapes and immediately disappears. Not everything is in motion, but it seems that we embark on a continuous and ever new flow. The work can also be understood as a mental state, a psychological state. It could be the inner workings of a mind, which asks many questions, lives multiple times, and is aware of the synaptic connections that build electrical bridges.
---
[Esp]
The Many Suns Inside Your Head
es una instalación inmersiva compuesta por diferentes superficies (tela, papel, poliéster celular, pantalla de lona), varios conjuntos de proyectores (de diapositivas y digital) con filtros fotográficos, lentes o espejos sobre motores, algunos objetos (un bola de cristal, una placa fotográfica de cristal, un foco de luz LED) y sonido. La instalación genera un sistema entrelazado, una especie de sistema solar donde habría más de un sol alrededor de los cuales orbitaríamos. Plantea diferentes tiempos para un espacio concreto. La experiencia se abre y nos vemos inmersos en un movimiento continuo de trayectorias de luces que atraviesan el espacio. Un sol que se pone aquí, a la vez que otro se levanta allí. Un pequeño eclipse de otros dos soles, mientras en el horizonte un haz de luz azul se hace visible en formas caprichosas para enseguida desaparecer. No todo está en movimiento pero parece que embarcamos en un flujo continuo que no se repite. La instalación también puede ser entendida como un estado mental, un estado psicológico. Podría ser el funcionamiento interno de una mente, que se plantea muchas preguntas, vive múltiples tiempos y es consciente de las conexiones sinápticas que tienden puentes eléctricos.
Financiado por el Fondo Asistencial y Cultural de VEGAP, a través de las Ayudas a la Creación S.O.S ARTE/CULTURA 2021