---
semi–luna—negra
Experiencia situada (
audio walk
)
2019
[Esp]
Un ocelo, flash, imagen instantánea, retina display, black screen, telescopio, aparatos oculares, aparatos de memoria y de tiempos.
semi–luna—negra
es una
experiencia situada
, un audiowalk en el que los participantes, de ojos vendados, escuchan una serie de pistas sonoras por un determinado recorrido. Una experiencia sonora en el tiempo.
semi–luna—negra
formó parte del programa
La máquina, el amor y Marcel Proust
, comisariado por Alexandra Laudo [Heroínas de la Cultura] para
Swab Performance
2019, organizado por Swab Barcelona y el Programa de Artes Visuales de la Diputación de Barcelona, y también del festival
Poesia i +, programa Acciones en la montaña
, también comisariado por Laudo.
Créditos
Concepción y dirección: Pedro Torres
Textos: Pedro Torres
Voces automáticas: Mónica, Jorge, Serena
Músicas:
A Walking Embrace
, Nils Fhram;
Chasing Stars
, Moux;
Eyes Closed and Traveling
, Peter Broderick;
Eyes Shut - Nocturne in C Minor
, Ólafur Arnalds & Alice Sara Ott;
Organum
, Max Richter;
Pienso en tu mirá
, Rosalía;
semi–luna—negra
, Pedro Torres & Laura Llaneli
---
[Eng]
An ocellus, flash, snapshot image, retina display, black screen, telescope, eye devices, memory and timing devices.
semi–luna—negra (half–moon—black)
is a situated experience, an audio walk in which the audience, blindfolded, listen to a series of soundtracks along a certain route. A sound experience through time. The texts are mine and narrated by automatic computer voices. By the end of the audio walk, the participants receive a publication with the texts they hear and some images.
Credits
Conception and direction: Pedro Torres
Texts: Pedro Torres
Automatic voices: Mónica, Jorge, Serena
Musics:
A Walking Embrace
, Nils Fhram;
Chasing Stars
, Moux;
Eyes Closed and Traveling
, Peter Broderick;
Eyes Shut - Nocturne in C Minor
, Ólafur Arnalds & Alice Sara Ott;
Organum
, Max Richter;
Pienso en tu mirá
, Rosalía;
semi–luna—negra
, Pedro Torres & Laura Llaneli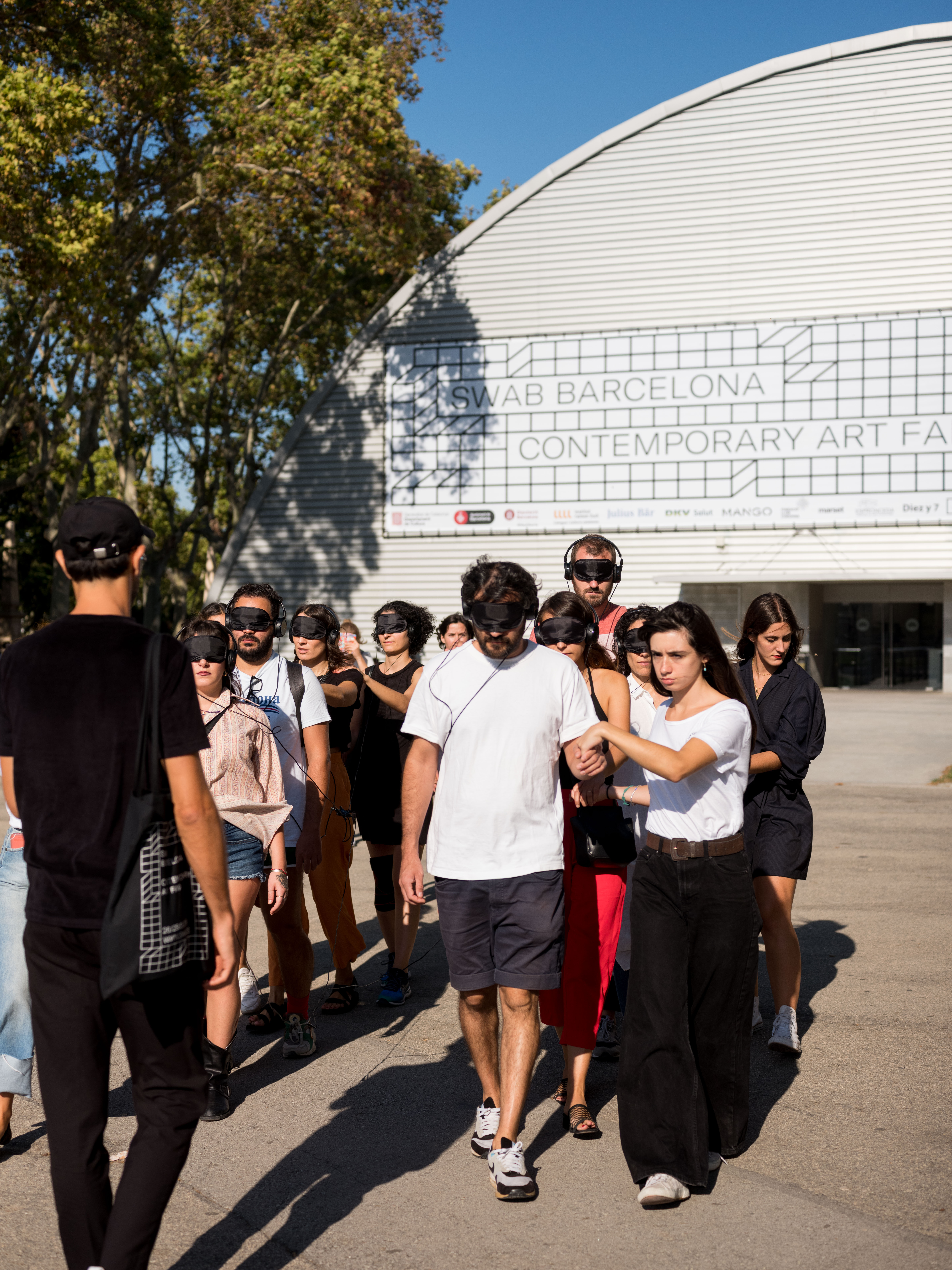 Swab Barcelona 2019 [foto: Marc Medina)
Festival Poesia i + 2020, Caldes d'Estrach